FREEDOM FROM SUPREMACY AND INFERIORITY.
FREEDOM FROM OPPRESSION.
FREEDOM TO LIVE
A BEAUTIFUL LIFE.

OVER HALF A MILLION SOULS SPOKEN TO WORLDWIDE…

Jaiya John YouTube channel
Join our literary journal & newsletter Soul Blossom
In the beginning, two spirits roamed every soul. One was Love. The other, fear. Fear, being restless and insecure, mutated into two other spirits, supremacy and inferiority. Both of these would inhabit every human soul and space, forever. Waiting. To be fed.
I am here in the world for freedom work. All my life I have dreamed of freedom. Cried for freedom. Ached and burned for freedom. My work is the story of our freedom from the sickness of supremacy and inferiority. Freedom from oppression. Freedom to live a beautiful life.

Food, water, and shelter are nothing if the one being fed, watered, and sheltered is immersed in the profound suffering that is poverty of the soul. I am grateful to carry out the humanitarian work of feeding souls the bread and breath of Love, compassion, and hope.

In an often dehumanizing world, Soul Water Rising is a global rehumanizing mission. We support the healing and freedom journeys of historically dehumanized populations and cultures, children, youth, families, and communities. We honor womanhood and fatherhood. And we treat the sickness of racial and cultural supremacies wherever they exist.

I am honored to have spoken to over half a million people worldwide, and audiences as large as several thousand at national and international gatherings. I offer keynotes, freedom talks, healing circles, and retreat work, treating all as sacred community gatherings. I do not lecture or recite from script. I feed your audience much more than information. I commune, reaching into the transformative hearts and souls of your audience—a nurturing treatment. We do wonderful laughing, crying, and feeling together. Participants consistently share that they come away feeling uplifted, renewed, clarified, hopeful, healed, and returned to themselves. I help cultivate a new relationship with your true nature, giftedness, passion, and calling; inspiring life, work, workforce, organization, mission, and community to be renewed and re-envisioned. Together, we harvest new language: the vocabulary of freedom, wellness, wholeness, fruitfulness. I am happy to further familiarize you with what this experience looks like, feels like, and where it leads. I invite you to reach me through the form at the bottom of this page.
JAIYA JOHN BIOGRAPHY. Dr. Jaiya John was born into foster care in New Mexico, and is an internationally recognized freedom worker, humanitarian, author, speaker, poet, and youth mentor. Jaiya is the founder of Soul Water Rising, a global rehumanizing mission that has donated thousands of Jaiya's books in support of social healing, and offers scholarships to displaced and vulnerable youth. Jaiya is also the founder of Freedom Project, a global initiative reviving traditional gathering and storytelling practices to fertilize social healing and liberation. He is a former professor of social psychology at Howard University, has authored numerous books, and has spoken to over half a million people worldwide and audiences as large as several thousand, including national and international conferences, schools, Indigenous reservations and communities, prisons and detention centers, shelters, and colleges. Jaiya is a National Science Foundation fellow, and holds doctorate and master's degrees in social psychology from the University of California, Santa Cruz, with a focus on intergroup relations and identity development. As an undergraduate, he attended Lewis & Clark College in Portland, Oregon, and lived in Kathmandu, Nepal, where he studied Tibetan Holistic Medicine through independent research with Tibetan doctors.

SPEAKING TOPICS
Within the broader context of personal and collective freedom from oppression, I work in any combination of these areas:

Healing the Healers

Using Story for Collective Freedom

Youth Freedom and Healing

Community Healing

Womanhood Freedom

Fatherhood Freedom

Indigenous Healing

Rehumanization

Homelessness

Social Justice

Juvenile Justice

Restorative Justice

Mental and Behavioral Health

Child Abuse Prevention

Child Welfare

Staff Appreciation

Organizational Change

Trauma Sensitivity and Responsiveness

Inner Peace

Soulful Wellness

*Book Readings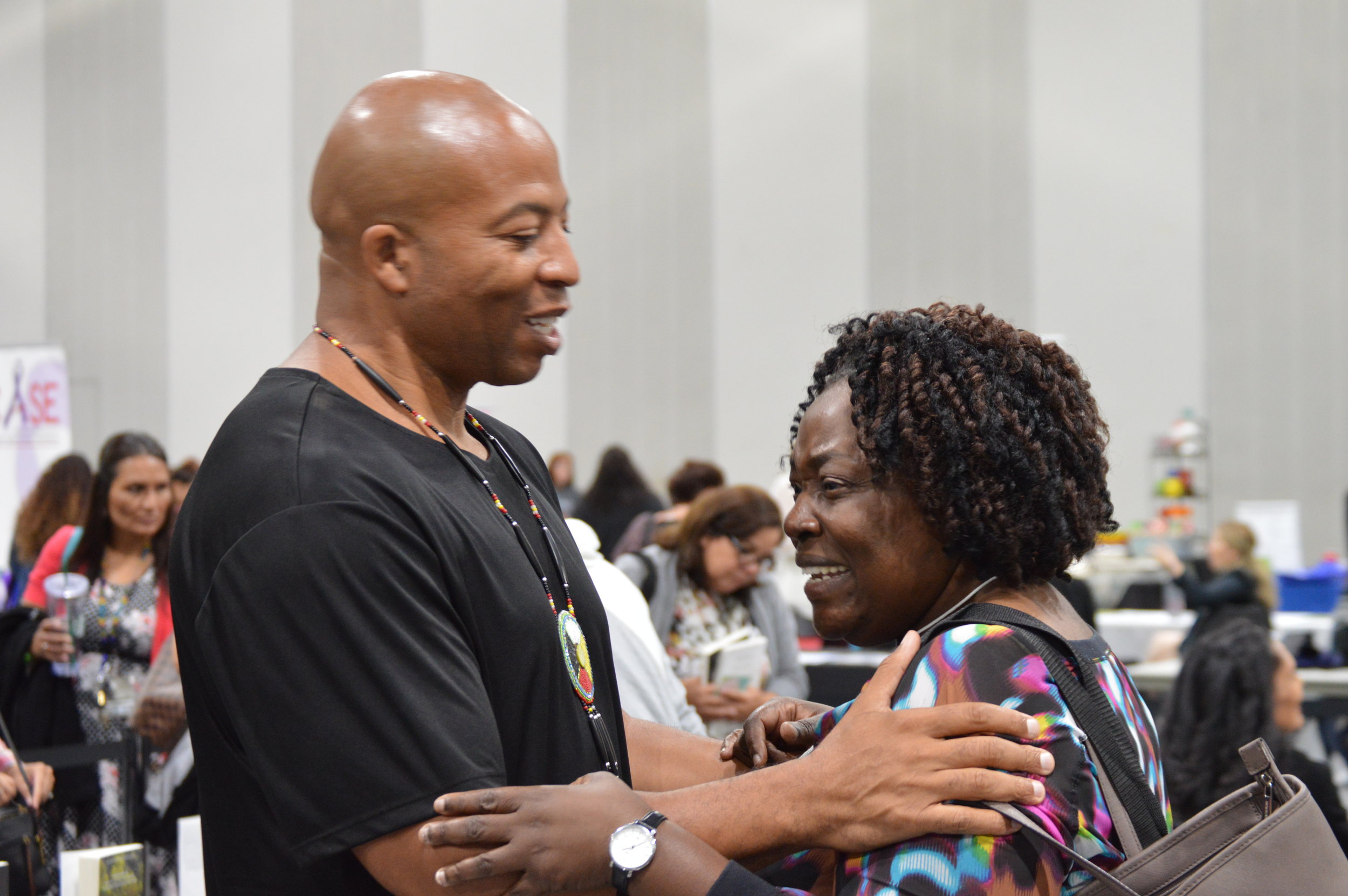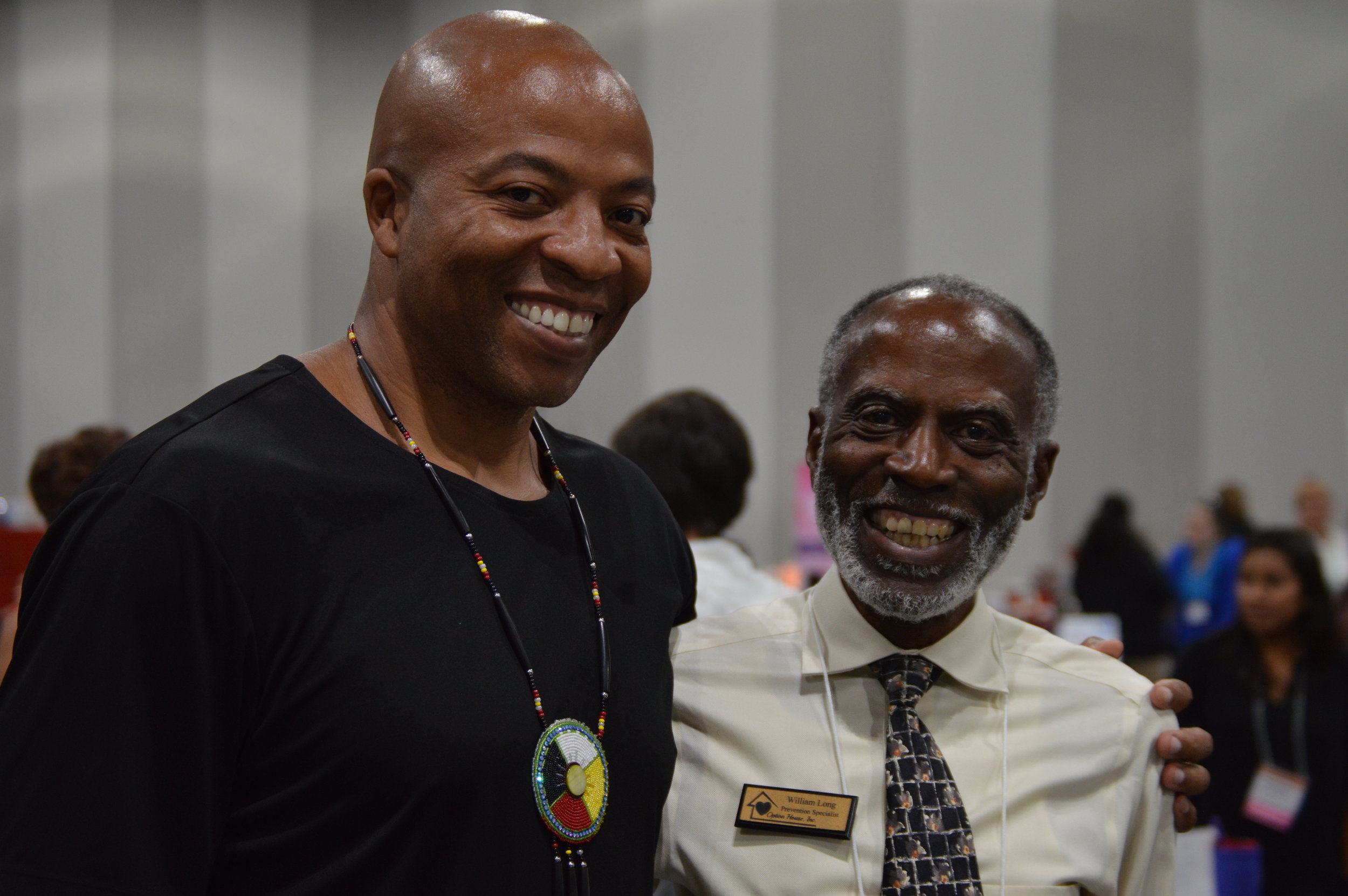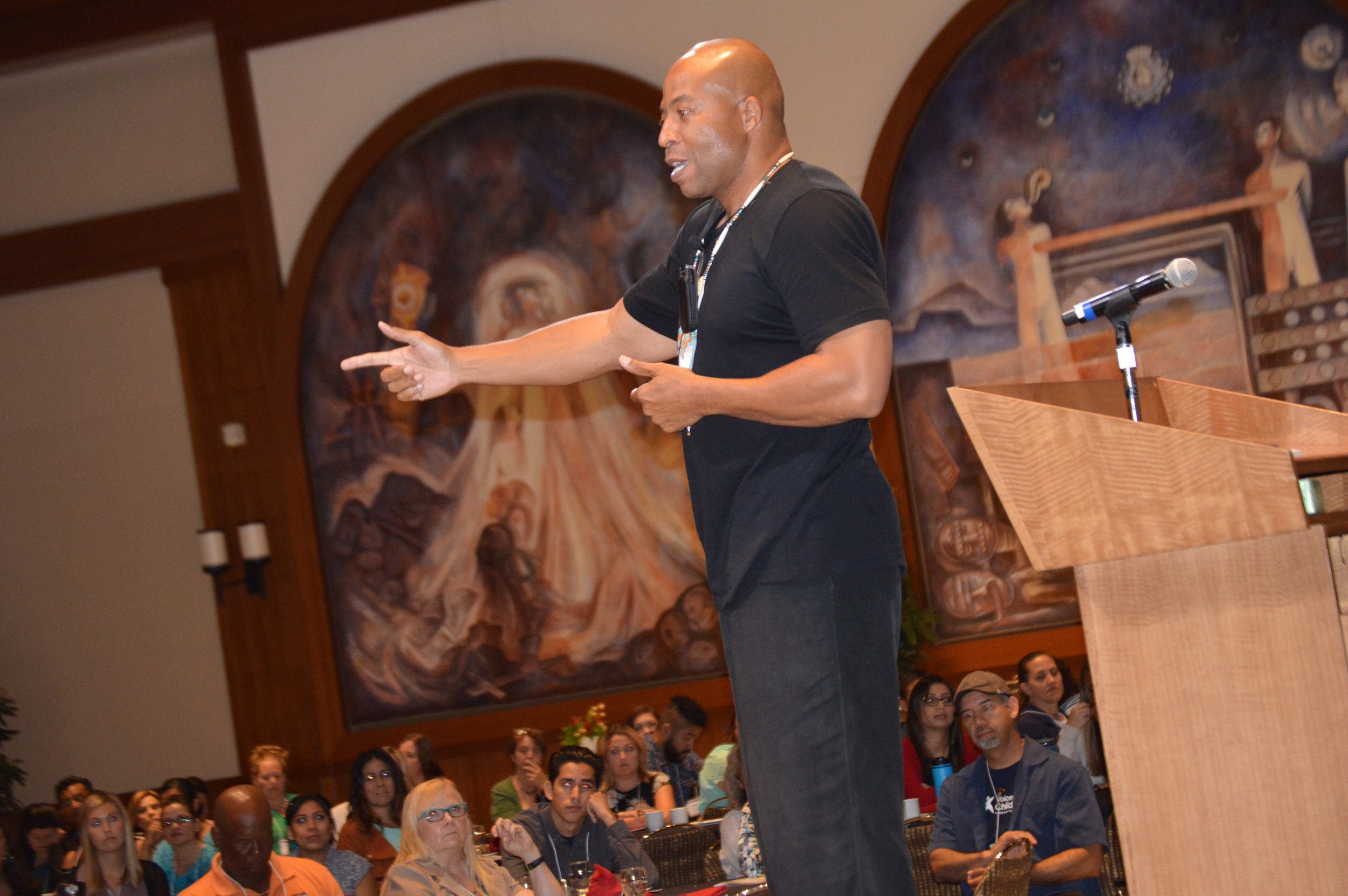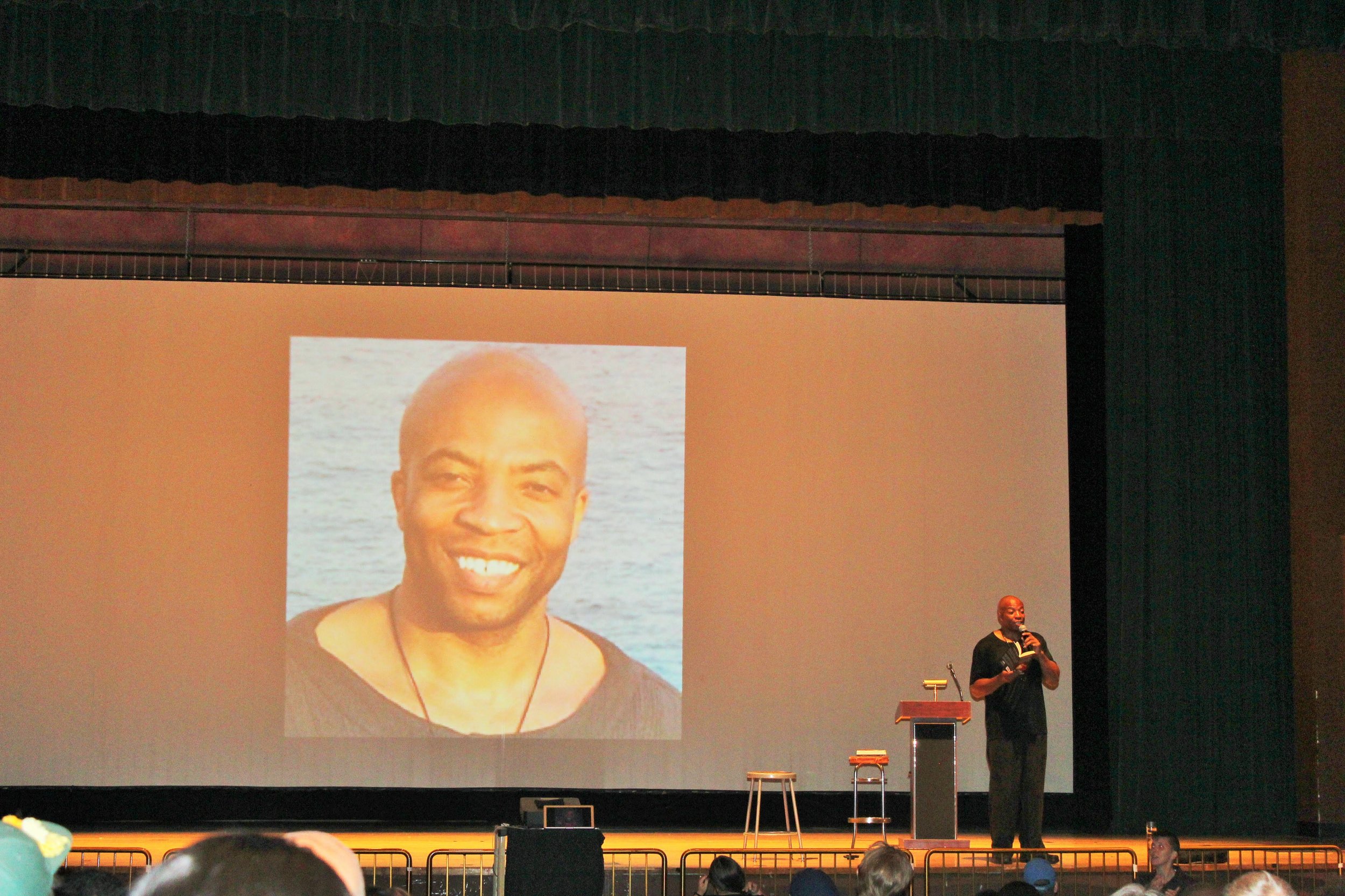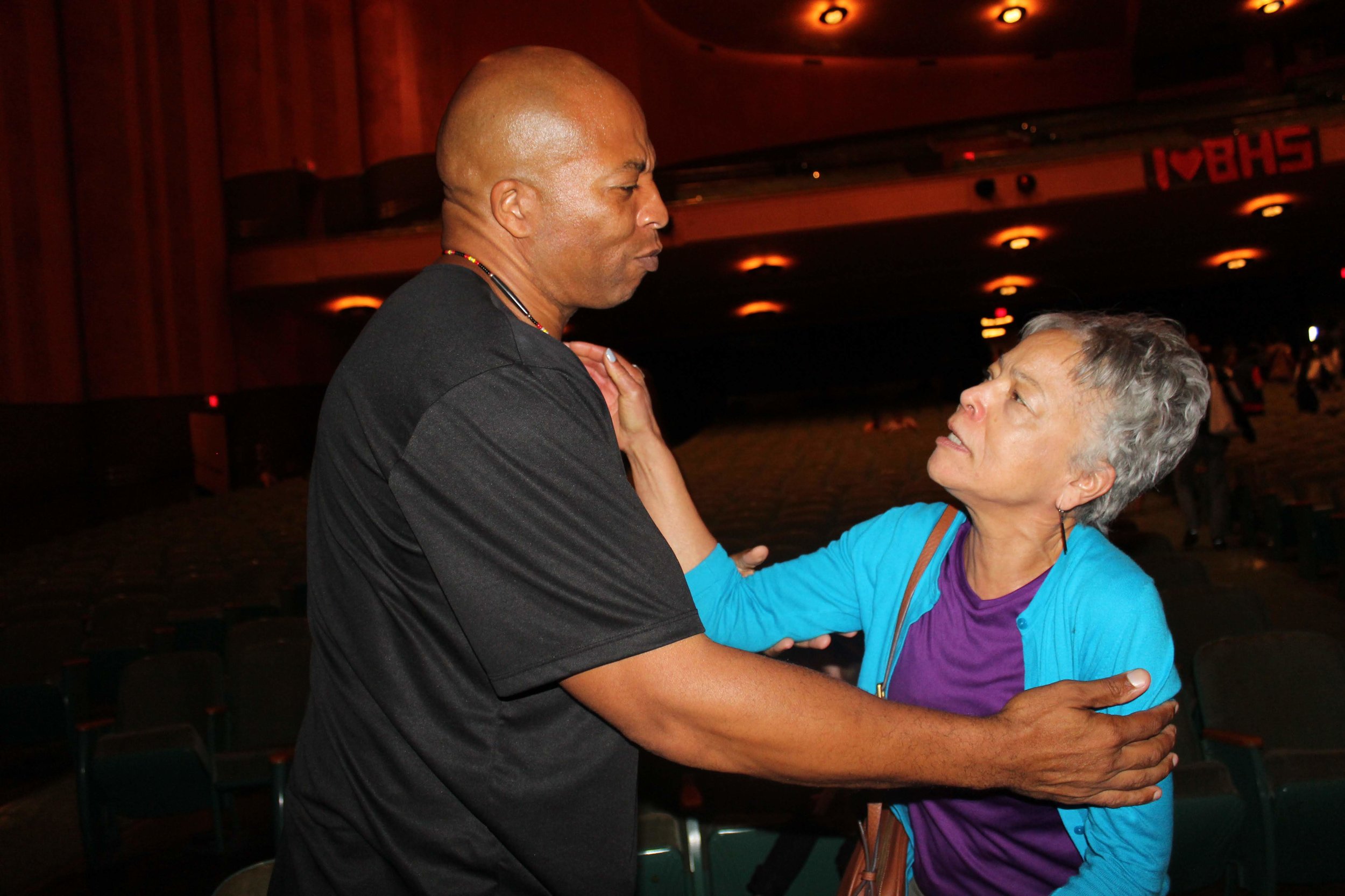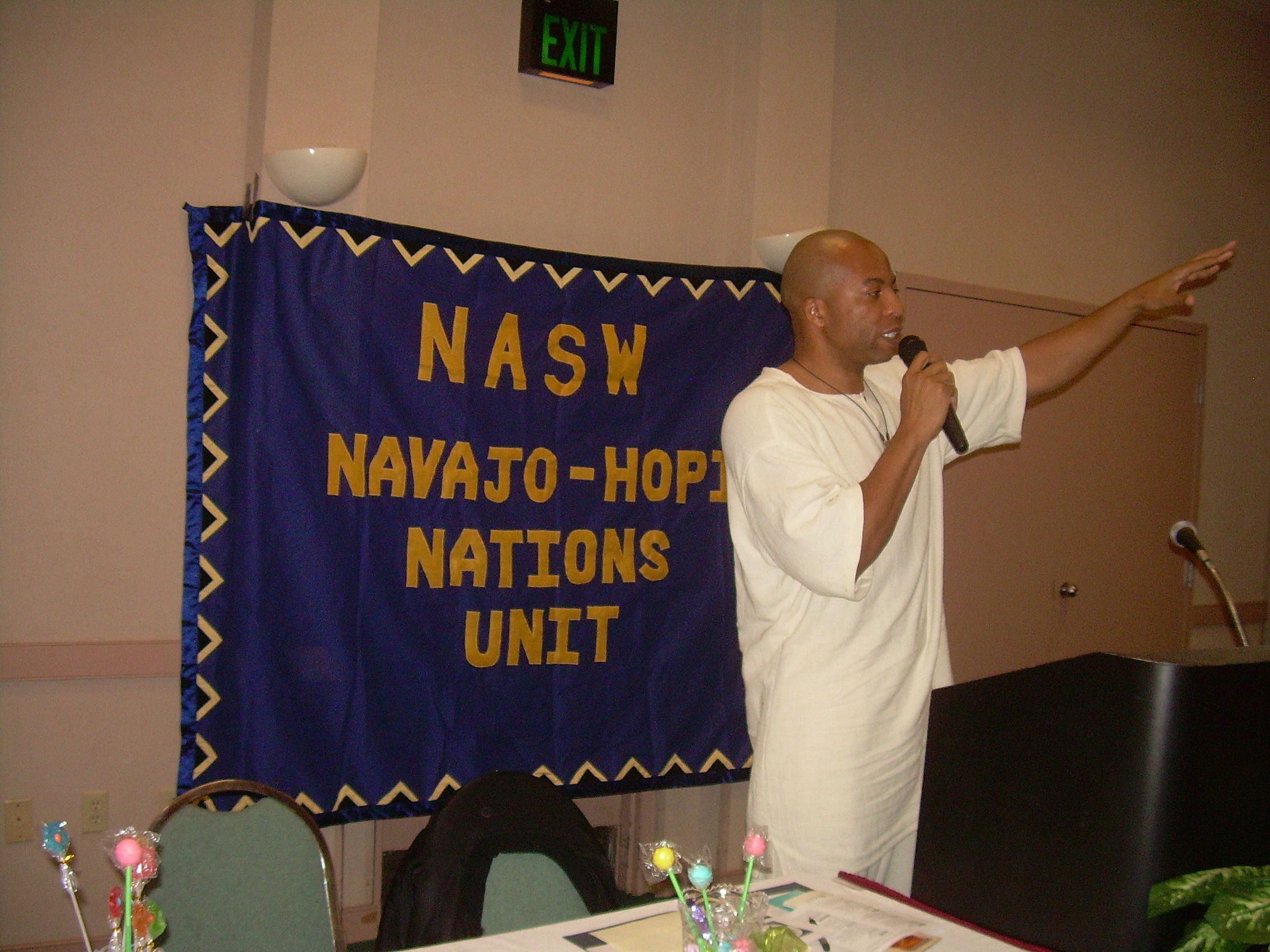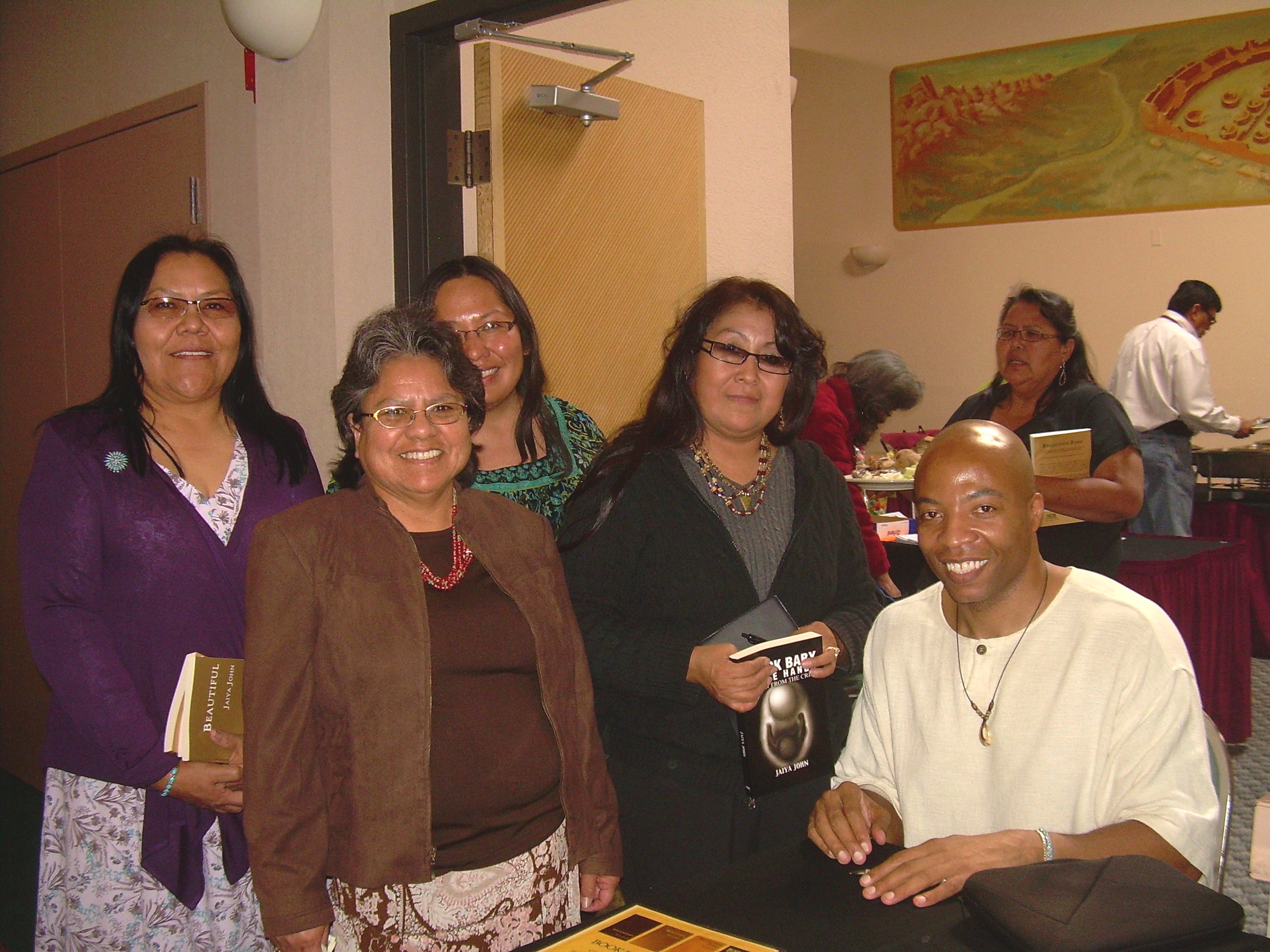 Association of Child Residential Centers, New Orleans, LA • Community Action Committee of Santa Barbara County • Kern County Department of Human Services, Bakersfield, CA • Bakersfield College FKCE Program, Bakersfield, CA • Fresno City Community College, Fresno, CA • Maryland Department of Human Services • Maryland Social Services Agency • Redwood Community Services, Ukiah, CA • Friends of the Family, Los Angeles, CA • Kempe Center for the Prevention and Treatment of Child Abuse and Neglect • Penny Lane Centers, North Hills, CA • Ventura County Behavioral Health Department, Ventura, CA • International Child and Youth Care Network, Cape Town, South Africa • Antelope Valley Partners for Health, Lancaster, CA • La Plata County DHS, Durango, CO • Families and Communities Together, Orange County, CA • Valley of the Moon Children's Center, Santa Rosa, CA • Children's System of Care, Buellton, CA • San Bernardino City Unified School District, CA • Spring Creek Youth Services Center, Colorado Springs, CO • Niiwin Akeaa Programs and Youth Programs, Baraga, MI • Keweenaw Bay Indian Community, Baraga, MI • Unified School District, CA • Solano County Child Welfare Services, Vallejo, CA • San Bernardino Community College District, CA • Kinship Center – Seneca Family of Agencies, Salinas, CA • Seneca Family of Agencies, Oakland, CA • Kansas Youth Advisory Council, Topeka, KS • Kansas Department of Children and Family Services, Topeka, KS • Los Angeles County Office of Education • Student Success Partnership, San Bernardino, CA • University of Redlands, CA • Riverside County Department of Public Social Services, CA • Ventura County Child and Family Services, CA • San Mateo County Child and Family Services, CA • CASA of Ventura County, CA • Lincoln Child Center, Oakland, CA • Seneca Center, Oakland, CA • Marin County Child Welfare Services, CA • Colorado Coordinating Council on Restorative Justice, Vail, CO • Los Angeles County DCFS, CA • Academy for Professional Excellence, San Diego, CA • Santa Clara County Social Services Agency, San Jose, CA • Northwest Resource Associates – ORPARC, Portland, OR • Inland Empire Fatherhood Involvement Coalition, San Bernardino, CA • Bay Mills Community Collaborative, Bay Mills, MI • Casey Family Programs, Child and Family Services, Seattle, WA • Colorado Division of Youth Corrections, Denver, CO • National Partnership on Juvenile Services, Denver, CO • Sonoma County Family Youth and Children, Sonoma, CA • Arizona Department of Children Services, Flagstaff, AZ • Alameda County Department of Children and Family Services, Hayward, CA • Bay Area Collaboration of American Indian Resources, San Francisco, CA • VOICES Youth Center, Napa, CA • On the Move, Napa, CA • Bay Area Social Services Consortium, Oakland, CA • Kings County Human Services Agency, Hanford, CA • Chaffey School District, Ontario, CA • California Core Practice Model Consortium • California State Foster Parents Association • Virginia Federal Education Program Administrators, Richmond, VA • Milwaukee County, Community Access to Recovery, Milwaukee, WI • Los Angeles Best Babies Network, Los Angeles, CA • Milestones Collaborative, event: Camarillo, CA • San Francisco Human Services Agency, Family and Children's Services, San Francisco, CA • Linkages Collaborative, event: Sacramento, CA • Orange County Social Services Agency, Santa Ana, CA • Child Abuse Prevention Council, event: Roseville, CA • KidsFirst, event: Roseville, CA • Placer County Children's Systems of Care, Auburn, CA • CASA of Ventura County, Camarillo, CA • Moorpark College, Moorpark, CA • Ventura College, Ventura, CA • Oxnard College, Oxnard, CA • Ventura County Community College District, Ventura, CA • Napa County Health and Human Services Administration, Napa, CA • Chaffey College EOPS, Rancho Cucamonga, CA • Olympic Alternative High School, Concord, CA • Alpine County Behavioral Health Services. (event: Markleeville, CA) • Alpine County Health and Human Services. (event: Markleeville, CA) • Lassen County Children and Family Services. (event: Susanville, CA) • San Mateo County Human Services Agency, Independent Living Program, CA • Center for Youth and Family Services, Peoria, IL • Telios Training Solutions, San Bernardino, CA • Promises2Kids, San Diego, CA • ASPIRAnet Fresno, Fresno, CA • Contra Costa County Dept. of Social Services, Concord, CA • New Mexico Children Youth and Families Dept. (event: Taos, NM) • Southwest Institute of Child and Family Advocacy, (event: Taos, NM) • City of Alexandria Dept. of Social Services, Alexandria, VA • Arlington County Dept. of Social Services, (event: Alexandria, VA) • Pennsylvania Youth Advisory Board, (event: Mechanicsburg, PA) • Foster Forward (formerly Rhode Island Foster Parent Association), Providence, RI • Colorado Dept. of Human Services, Division of Youth Corrections, (event: Vail, CO) • Edgecombe County Dept. of Social Services, Rocky Mount, NC • TBA-ISD Career Tech Center, Traverse City, MI • Child and Family Services of Northwestern Michigan, Traverse City, MI • California Partners for Permanency, (event: Fresno, CA) • Fresno County Dept. of Social Services, Fresno, CA • Child and Family Policy Institute of California, (event: Fresno, CA) • University of California, Los Angeles, Luskin Dept. of Socail Welfare, Los Angeles, CA • Sacramento County Dept. of Health and Human Services, Sacramento, CA • Sacramento County Dept. of Human Assistance, Sacramento, CA • Butte County Dept. of Employment and Social Services, (event: Chico, CA) • Children's Institute, Inc., Los Angeles, CA • Florida Dept. of Juvenile Justice, (event: Orlando, FL) • New Hampshire Dept. of Health and Human Services, (event: Concord, NH) • New Hampshire Dept. of Education, (event: Concord, NH) • Indiana State Office of GAL/CASA, Indianapolis, CA • County Welfare Directors Association of California, (event: Long Beach, CA) • Michigan Dept. of Human Services, (event: Bay City, MI) • Michigan Federation for Children and Families, (event: Bellaire, MI) • EPIC 'Ohana, Inc., (event: Kaneohe, HI) • HI H.O.P.E.S Youth Board, (event: Kaneohe, HI) • Mental Health Council of Arkansas, (event: Hot Springs, AR) • California Youth Connection, (event: Thousand Oaks, CA) • Delaware Youth Advisory Council, Wilmington, DE (event: Dover, DE) • New York City Office of School Health, New York, NY • Florida Juvenile Justice Association, (event: Orlando, FL) • Florida Alcohol and Drug Abuse Association, (event: Orlando, FL) • Nampa School District 131, Nampa, ID • Mental Health Corporations of America, Inc., (event: Clearwater, FL) • Reach Out, Inc., Upland, CA (event: Ontario, CA) • San Bernardino County Superintendent of Schools, San Bernardino, CA • San Bernardino County Office of Probation, San Bernardino, CA • San Bernardino County Children and Family Services, San Bernardino, CA • National Association for the Education of Homeless Children and Youth, (event: Pittsburgh, PA) • Texas Alliance of Child and Family Services, Austin, (event: Houston) • Gar-Field Senior High School, Woodbridge, VA • Strategies/Children's Bureau of Southern California, Anaheim, (event: San Diego) • CA Dept. of Social Services, Office of Child Abuse Prevention, (event: San Diego) • University of Wisconsin, Stevens Point, (event: Wisconsin Dells) • Wisconsin Division of Mental Health and Substance Abuse Services, (event: Wisconsin Dells) • National Indian Child Welfare Association, Portland, OR, (event: Seward, AK) • Bartholomew County Juvenile Court, Columbus, IN • Prince William County Public Schools, Manassas, VA • Henrico Mental Health and Developmental Services, Richmond, VA • Fan Free Clinic, Richmond, VA • National Association of School Nurses, Washington, D.C. • Lutheran Social Services of Michigan, Big Rapids, MI • Northern Virginia Family Service, Fairfax, VA • Juvenile Court & Community Alternative School Administrators of CA, Napa, CA • El Camino High School, Oceanside, CA • Hampton Juvenile and Domestic Relations Court, Hampton, VA • Hampton Dept. of Social Services, Hampton, VA • Ventura County Board of Supervisors, Ventura, CA • Prevent Child Abuse Virginia, Richmond, VA • Winchester Area Systems of Care, Winchester, VA • AmeriCorps NCCC, Perry Point, MD • New Mexico Children, Youth, and Families Dept. • New Mexico State University • Virginia Dept. of Education, Office of Student Services, Fredericksburg, VA • U.S. Office of Juvenile Justice and Delinquency Prevention, Arlington, VA • California State Foster Parent Association, Oakland, CA • San Bernardino County Superintendent of Schools, CA • San Bernardino County Children's Network, CA • Arizona Dept. of Economic Security, Division of CYF • Ventura County Office of Probation, CA • Ventura County Children's Services, CA • California Youth Connection • Franklin Intermediate School, Oxnard, CA • Children's Network of Southwest Florida, Fort Myers, FL • Office of the Attorney General of Florida, Orlando, FL • Jewish Child Care Association, New York, NY • Catholic Charities of Maryland, Baltimore, MD • Bay Area Academy, San Mateo, CA • San Diego County Office of Education, CA • Indian Health Council, Inc., Pauma Valley, CA • Casey Family Programs, San Diego, CA • California Mental Health Advocates for Children and Youth, Pacific Grove, CA • Youth In Mind, Pacific Grove, CA • San Joaquin County Office of Education, Stockton, CA • Wisconsin Family Based Services Association, Sturgeon Bay, WI • Lakeland School District, Rathdrum, ID • Navajo Hopi Nations Unit (Arizona Chapter National Assc. of Social Workers), Gallup, NM • Fort Defiance Region Division of Social Services, Fort Defiance, AZ • California Disproportionality Breakthrough Series Collaborative, Sacramento, CA • Casey Family Programs, Sacramento, CA • CNN Television, Atlanta, GA • Bermuda Department of Child & Family Services, Hamilton, Bermuda • Florida Commission on Human Relations, Tallahassee, FL • Illinois Department of Children & Family Services, Chicago, IL • FOX Television, Hollywood, CA • Black Entertainment Television (BET), Washington, D.C. • University of Pittsburgh, Pittsburgh, PA • Congressional Black Caucus, Washington, D.C. • Cal Farley's Boys Ranch and Girlstown U.S.A., Amarillo, TX • Rhode Island Foster Parents Association, Providence, RI • San Diego County Commission on Children, Youth, and Family, CA • EduAlliance Network, Soquel, CA • York/Poquoson Child Advocacy Team, Tidewater Area, VA • James City County Dept. of Social Services, Williamsburg, VA • Working with Youth, Burlington, VT • Indiana Department of Child Services • Ball State University, Muncie, IN • University of Pittsburgh Child Welfare Training Program, Mechanicsburg, PA • Pennsylvania Department of Public Welfare • Florida Department of Children and Families • Specialized Alternatives for Families and Youth (SAFY) of Indiana • Harris County Children & Adult Protective Services (Systems of Hope), Houston, TX • Family Preservation Institute, Albuquerque, NM • DePaul Community Resources, Abingdon, VA • The Villages of Indiana, Indianapolis, IN • Iowa Coalition for Family and Children's Services, West Des Moines, IA • Iowa State University, Ames, IA • Ventura County Office of Education, Ventura, CA • Casa Pacifica, Camarillo, CA • Midwest Adoption Conference (Coalition), Deerfield, IL • Adoption Knowledge Affiliates, Austin, TX • Network of Spiritual Progressives, Richmond, VA • Virginia Commonwealth University, Richmond, VA • South Carolina Council on Adoptable Children, Charleston, SC • Onslow County Department of Social Services, Jacksonville, NC • FACES of Virginia Families, Charlottesville, VA • His House Children's Home, Miami, FL • Reston Interfaith, Reston, VA • Maryland Foster Parent Association, Baltimore, MD • University of Maryland, Baltimore County School of Social Work • Jim Casey Youth Opportunities Initiative, St. Louis, MO • Texas Department of Family Protective Services, Dallas, TX • Texas Woman's University, Dallas, TX • Texas Network of Youth Services, Austin, TX • Virginia Statewide Parent Education Coalition, Richmond, VA • Indiana Association on Adoption & Child Care Services, Indianapolis, IN • United Way of Central Indiana, Indianapolis, IN • Bellewood Presbyterian Homes for Children, Louisville, KY • TFI Family Services, Topeka, KS • KinCare Connections, Newport News, VA • Rural Opportunities, Inc.-PathStone, Rochester, NY • Adoption Resource Network at Hillside Children's Center, Rochester, NY • San Diego Workforce Partnership, San Diego, CA • U.S. Department of Agriculture, Washington, D.C. • Los Alamos National Laboratory, Los Alamos, NM • D.C. Commission on Mental Health Services, Washington, D.C. • National Association of Black Social Workers, Washington, D.C. • Southeastern Child Care Association • National Network for Youth, Washington, D.C. • Texas Department of Families and Protective Services, Nacogdoches, TX • Region 5 Council of Foster Parents, Nacogdoches, TX • Baptist Family and Children's Services, Columbia, MD • Virginia Baptist Children's Home • Vermont Foster and Adoptive Family Association • Vermont Adoption Consortium • Professional Association of Treatment Homes (PATH), MN/WI/CO/SD • COBYS Family Services, Lancaster, PA • The Bair Foundation, Middletown, PA • Bethany Christian Services, Grand Rapids, MI • Kirtland Air Force Base, Albuquerque, NM • Howard University, Washington, D.C. • The Exploratorium, San Francisco, CA • U.S. Veterans Administration Medical Center, Philadelphia, PA • Lutheran Social Services, Washington, D.C. • Marion County Public School District, Ocala, FL • Verizon, Inc., Norfolk, VA • Black Administrators in Child Welfare, Inc., Washington, D.C. • Bahá'í Institute for Race Unity, Silver Spring, MD • Maryland Dept. of Human Resources, Baltimore, MD • Lewis & Clark College, Portland, OR • Illinois One Church One Child, Chicago, IL • Virginia One Church One Child, Richmond, VA • Maryland One Church One Child, Baltimore, MD • NAACP, National, Houston, TX • NAACP, Hillsborough County Branch, Tampa, FL • NAACP, Marion County Branch, Ocala, FL • D.C. Consortium for Child Welfare, Washington, D.C. • Baltimore City Department of Social Services, Baltimore, MD • Marion County Intensive Treatment Facility, Ocala, FL • H.D. Woodson Senior High School, Washington, D.C. • Mississippi Families for Kids, Jackson, MS • Catholic Charities, Washington, D.C. • Elimisha Institute, Washington, D.C. • Sandia National Laboratories, Albuquerque, NM • National Black Child Development Institute, Washington, D.C. • D.C. Child & Youth Services Administration, Washington, D.C. • Bowie State University, Bowie, MD • National Public Radio, Washington, D.C. • Homes for Black Children, Detroit, MI • Illinois Foster Parent Association, Chicago, IL • Greater Hopewell Missionary Baptist Church, Ocala,FL • Interracial Family Circle, Washington, D.C. • Center for Adoption Support & Education, Silver Spring, MD • University of South Florida, Tampa, FL • Fairfax County Department of Family Services, Fairfax, VA • American Adoption Congress, Atlanta, GA • Chicago State University, Chicago, IL • Michigan Foster & Adoptive Parents Association, Grand Rapids, MI • Illinois State Board of Education, Champaign-Urbana, IL • Washington County Dept. of Social Services, Hagerstown, MD • People of Color Consultants, Washington, D.C. • Sheridan School, Washington, D.C. • Progressive Life Center, Washington, D.C. • Progressive Life Center, Baltimore, MD • For Love of Children, Washington, D.C. • Luke C. Moore Academy, Washington, D.C. • Lowell School, Washington, D.C. • Family Resource Center, Los Alamos, NM • KRSN 1490 AM Radio, Los Alamos, NM • WOL Radio, Baltimore, MD • Out Came the Sun, Rockville, MD • United Methodist Family Services, Alexandria, VA • New World Unity Church, Springfield, VA • Celebration Center of Religious Science, Falls Church, VA • Association for Global New Thought, Santa Barbara, CA • Whitman College, Walla Walla, WA • New York City Administration for Children's Services, NY, NY • Hennepin County, Minneapolis, MN • Kalamazoo County Dept. of Human Services, Kalamazoo, MI • TECHR Committee, St. Paul, MN • Extra Mile Family Resource Center, Lafayette, LA • Georgia Department of Human Resources, Atlanta, GA • Another Choice For Black Children, Charlotte, NC • WKCR 89.9 FM, New York, NY • XM Satellite Radio Channel 169, Bowie, MD • Reflections Coffee & Bookstore, Portland, OR • Reader's Choice, St. Petersburg, FL • Books for Thought, Tampa, FL • WTMP 1150 AM, Tampa, FL • KBOO 90.7 FM, Portland, OR • The Book Club, Riverdale, MD • Sistahs Sippin' Flavored Tea Book Club, Ocala, FL • Ocala Beauty Expo, Ocala, FL • Foster Club, Seaside, OR • Howard Middle School, Ocala, FL • Harlem Book Fair and Cultural Festival, Harlem, NY • Ocala Star-Banner, Ocala, FL • Black and White Men United, Washington, D.C. • CTV Channel 76 News, Prince Georges County, MD • Real Men Cook for Charity, Inc., Bowie, MD • Karibu Books, Bowie, MD • WHUR 96.3 FM, Washington, D.C. • Children's Services of Roxbury, Roxbury MA • United Homes for Children, Roxbury, MA • Fairfax Public Access Cable Television Channel 10, Alexandria, VA • WTMY 1280 AM, Sarasota, FL • Million Family March, Washington, D.C. • Adoptions Together, Inc., Silver Spring, MD • MAVIN Magazine, Seattle, WA • WUST 1120 AM, Washington, D.C. • United States Department of Education, Washington, D.C. • NW Regional Literacy Resource Center Board of Governors, Vancouver, WA • Western Psychological Association, Kailua-Kona, HI • University of California, Santa Cruz, CA • New Mexico Equal Employment Opportunity Council, Albuquerque, NM • Louisiana Adoption Advisory Board, New Orleans, LA • McDaniel College, Westminster, MD • Folio Weekly Magazine, Jacksonville, FL • Edward White High School, Jacksonville, FL • Clay County NAACP, Clay County, FL • Rizing Starz, Inc., Ocala, FL • MultiEthnic Perspectives, Inc., Alexandria, VA • Black Adoption Placement & Research Center, Oakland, CA • Minnesota National Association of Black Social Workers, Minneapolis, MN • NAACP, Florida State Convention • Lionel Wilson College Prep. Academy, Oakland, CA • University of Louisiana at Monroe, Monroe, LA • Louisiana Dept. of Social Services-OCS, Jefferson Region • Louisiana Dept. of Social Services-OCS, New Orleans Region • Ramsey County Dept. Community Human Services, St. Paul, MN • Southern University at New Orleans, Baton Rouge, LA • Grambling State University, Grambling, LA • Franklin Ave. Baptist Church, New Orleans, LA • Family Service & Children's Aid, Lansing, MI • Montgomery County Dept. of Health & Human Services, Rockville, MD • ATTACh, Inc., Richmond, VA • Coordinators2, Inc., Richmond, VA • Urban League of Champaign County, Champaign-Urbana, IL • Mountain Elementary School, Los Alamos, NM • Los Alamos Middle School, NM • Jackson County Department of Human Services, MI • Michigan Adoption Resource Exchange, Jackson, MI • Humanitarian Organization for Multicultural Experiences, Inc., Syracuse, NY • Prince William County Dept. of Social Services, Manassas, VA • Hanover County Dept. of Social Services, Ashland, VA • Virginia Association of Licensed Child Placing Agencies • The Barry Robinson Center, Norfolk, VA • Radford University, Radford, VA • Tennessee Department of Children's Services, Nashville, TN • University of Kentucky, Lexington, KY • Kentucky Youth Connects/KOFFY, Lexington, KY • California State University, Sacramento, CA • California Dept. of Social Services, Sacramento, CA • Colorado Heritage Camps, Denver • Pennsylvania Statewide Adoption and Permanency Network • D.C. Child and Family Services Agency • Children's Home Society & Family Services, St. Paul, MN • Connecticut Department of Children and Families • Connecticut Association of Foster and Adoptive Parents • National Resource Center for Youth Services, Tulsa, OK • University of Oklahoma/OUTREACH • Arkansas Department of Health and Human Services • Crozet Elementary School, Crozet, VA • Woodbrook Elementary School, Charlottesville, VA • Albemarle Public Schools System, Albemarle, VA • Presbyterian Children's Village, Rosemont, PA • United Methodist Family Services, Richmond, VA • D.C. City Collegiate Public Charter School, Washington, D.C. • Barker Foundation, Bethesda, MD • New River Valley Cares, Christiansburg, VA • Roanoke Dept. of Social Services, Roanoke, VA • Maryland Association of Resources for Families & Youth, Arnold, MD • Centers for Families and Children, Midland, TX • CRAFFT-Radford University, Radford, VA • Salisbury University, Salisbury, MD • Colorado Dept. of Human Services, Denver, CO • African Cradle, Inc., San Jose, CA • Gladney Center for Adoption, Fort Worth, TX • Lutheran Social Services, Dallas, TX • Buncombe County Dept. of Social Services, Asheville, NC • North American Council on Adoptable Children (NACAC), St. Paul, MN • Foster Family-Based Treatment Association (FFTA), Hackensack, NJ
"Your powerful presentations, genuine kindness, and compassion to our students and staff resonated throughout. Personally, it lifted my spirits and energy to continue the quest. I have listened to many presentations in the 20+ years of my educational experience and believe the presentation you gave to our students during the Hunger Banquet exceeded all of them in power, inspiration, and wisdom. I felt I was in the presence of some of the great figures of our global history, and as I reflected on the evening I imagined it must have been similar to hearing Martin Luther King, Jr. or Nelson Mandela. I genuinely mean every word." — Trent Derrick, Administrator, Lakeland High School, Rathdrum, Idaho

"Jaiya John speaks from his heart (which is a deep and boundless well) and then fills in the background and spaces in between with shades and colors of his soul. His ability to reach out and touch individuals both young and old, professionals and seekers, the wounded and the healers is a testament to the gifts that he shares so easily but have been developed over time and nurtured by experience. Every time I have had the pleasure to hear him speak to large audiences or read his words and poetry in solitary moments, I am thankful for the existence of Jaiya John in my universe." - Thomas M. Sodergren, Co-Chair, Third Annual International Child and Youth Care Network World Conference

I heard Jaiya John speak at a Foster Care Conference in Orlando, Florida. Jaiya spoke in a dynamic way that captured the attention of his audience. After hearing him speak, I was determined to bring him to Bermuda to talk to and inspire our dedicated foster parents. Jaiya was a motivator and inspired our foster parents! Many stood in line afterwards to meet him, talk to him and purchase his book. Jaiya dialogued with many, patiently listened to several foster parents' experiences. I would recommend him for any keynote address. - Selena M. Simons, Bermuda Dept. of Child and Family Services

"Dr. Jaiya John moved our conference attendees to tears and belly laughs, inspired deep conversation about the spirit of our work and the precious human connection restorative justice practices afford us. His generosity of time and soul continue to weave into reflections of our conference well after the event. Our gratitude for his presence is endless." — Deb Witzel, Supervisor, Probation & Restorative Justice Practices, State of Colorado

"Excitement permeates the atmosphere whenever the community hears that Jaiya John is returning to San Bernardino! This is because we know that Jaiya is not just coming to do a "keynote." Jaiya's messages provide validation, inspiration, encouragement, and most of all hope to all who listen. He has the gift of being able to touch the hearts and heal the souls of young and old. Our vast network of educators and human service professionals makes sure that Jaiya John is scheduled to speak at least once per year in San Bernardino, California." — Bernadette "Bunny" Pinchback, Manager, San Bernardino County Superintendent of Schools

"Jaiya is a truly peaceful presence who brought a breath of fresh air to our managers' retreat. His talk was not only inspirational and heartening, but deeply empathic. Our group had a sense that he was talking with each of us one on one and I heard conversations pop up all around the office in the weeks following our retreat revealing that his words resonated with many who were present. Personally, I came away from the session rejuvenated, and I'm so grateful our group had a chance to experience this energizing soul share some of his insight!" - Aleta Lynch, Arizona Dept. of Child Safety

"Your natural gift of connecting through empathy was very reassuring to me. I wept as I listened to you recite your poem "I Call You Legendary." - Orlinda Douglas, Dine (Navajo) Nation Division of Social Services

"I really do not have words to thank you for sharing your amazing loving energy with us at the conference. I can imagine that you have this experience often that people just want to be in your presence, as it is full of loving spirit." - Holli Sanger, Arizona Dept. of Economic Security, DCYF

"It was a pleasure to meet you yesterday and feel the depth of your presence. You are a powerful spirit with an amazing message to share. I sat beside 2 young clinicians on my plane ride back, and they stated how reinvigorated they were in their practice from your presentation alone." - Julie Barr, MFT, Lincoln Child Center, Oakland, California

"You so beautifully, artfully and wonderfully expressed why I, and so many of my colleagues over the years, do this work! I was nearly in tears, you were so moving." - Celeste D. Thompson, MFT and Social Worker, New Mexico

"I absolutely love coming to your seminars and feel that my soul has been nourished when I leave." - Carolyn Cicotte, Clinical Supervisor, Children and Family Services, Contra Costa County

"The first time I heard Jaiya John was at a seminar regarding foster youth. I was at the ready to take notes in my seat but soon put down my pen and listened....captured by the depth of what I was hearing. I was transported to forty years earlier. Thoughts, feelings and emotions racing through me that I had not considered since adolescence. Jaiya John can reach our foster youth like no other. Jaiya John is a healer of the soul. He not only relates with the youth during his presentation, but, sincerely and truly interacts with them after on a personal level. I have personally observed him signing books and talking with the youth three hours after an event. When Jaiya sees them again he knows them. They follow his word...and they know him. Over the last decade we have engaged Jaiya as a keynote speaker every year and the message and reaction is always nourishing. In my business career I was blessed to hear top speakers that changed the trajectory of peoples lives. Jaiya John does this with a new refreshed message each time. We are fortunate to have his commitment and inspiration available to all. We are the better for it." - Lynda D. Bowman, Foster Youth Advocate

"This was the most amazing thing I have ever experienced. I have heard lectures, and teachings. But what is so amazing is to see it with my own eyes, someone who came from a deep abyss of experiences and now is full of peace, Love, goodness and so much gratitude. Nothing like seeing a living example of healing and growth. This was by far the most amazing spiritual experience of my life." - Omnia Banoub, County of Napa Social Services Agency

"What an amazing gift you gave to everyone and such a refreshing way to start a brand new calendar year! The hustle and bustle of people finding their seats and greeting coworkers faded away as you began your greetings to us. The "workplace" kind of energy was replaced with peace. I felt myself breathing deeper and relaxing as you continued your talk. I realized that you were cultivating the very same loving kindness and compassion I had experienced before. Your talk was so very reminiscent of when Tibetan monks graced the Napa Valley with a visit in 2003. In the presence of the monks, as well as when you spoke, the meeting room was transformed from a work place to a gathering of people, a tribe if you will, with one goal in mind. Peace for everyone, compassion for all. You are such a sincere individual, a charismatic leader, and despite incredible hardships in your life, someone who has achieved iconic status in his commitment to spreading love and understanding around the world. It was like a soft, warm blanket had been gently placed around my shoulders. Clearly you are moved by spirit; I can hear that in your words and feel the loving kindness that emanates from your heart. I believe one of the most powerful and wonderful ways that you communicated was with humor. Your humor brought everyone together in laughter. I am sure that wherever you go, you bring spontaneity and joy. I believe we all left with a lighter heart. Thank you, Jaiya, for reminding me to start every day with a grateful heart and to include love, compassion and joy in each breath." - Joanie Freethy, Napa County HHSA

"I had heard Jaiya speak only once before, in Austin, Texas, at a seminar for professionals working with troubled and troubling children. His words were inspirational and true, deftly tapping into the core of who we all are as human beings in spite of our age, gender, ethnicity, religion, or political persuasion. I made the decision then, that if I ever had an opportunity to engage a speaker for another event, it would be Jaiya John! That opportunity came when Cal Farley's was celebrating its 70th anniversary of caring for children at Boys Ranch, Texas. There was no doubt in my mind who I would be asking to speak, and Jaiya accepted the invitation. Prior to the evening event with major contributors to our non-profit organization, Jaiya took the opportunity to join me for a trip to Boys Ranch so he could address the youth directly… it mattered to him to immerse himself in our culture, in our values, in our mission. Youth do not live at Boys Ranch because of something they did wrong, but because of life circumstances that don't allow them to live with their own families… this can often times leave them troubled or troubling. Jaiya, was able to create an immediate connection with these youngsters, using examples from his own life to them where they were in their lives, in a manner in which hurting children could hear. And, he was able to inspire the same passion with an audience of sponsors and donors that evening, with an equally compelling message conveyed in a manner that adults could hear. Therein resides the gift of Jaiya John. He has an uncanny ability to adapt his presentation and his style to the audience he is addressing, never compromising on the values that underpin his message. He is a master of using his larger than life persona and his words to draw an audience in and engage them in a way that they feel rejuvenated when the event is over. Jaiya is the genuine article… an amazing man with a wonderful gift!!" - Dan Adams, President & CEO, Cal Farley's, Amarillo, Texas